Main window
The main window is the operating central of the software.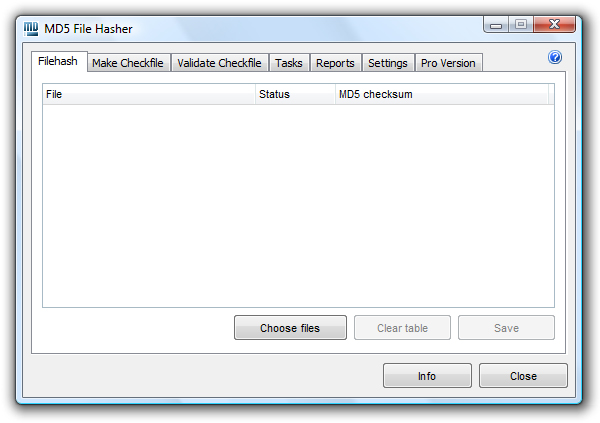 The main window is separated into two parts: tabs and task pane.
Tabs: The tabs allow you to switch between the different categories of MD5 File Hasher.
Task pane: The task pane is below the tabs and includes further functions and configuration options.
Open and close the main window
You have several options to open the main window:
Double-click the program icon on your Desktop.
Click Start > Programs > MD5 File Hasher.
Double-click the Tray-Icon.
The main window can be closed by clicking the close button or "X" in the top corner of the window.
Note:
If you close the main window and uncheck the box "Settings" > "Show program in Systray", programmed tasks will not be executed automatically.
Contents
Welcome
Using MD5 File Hasher
User interface
Main window
Tray-Icon
Calculate MD5-Hash values of files
Create Checkfile
Validate Checkfile
Create tasks
Reports
Upgrade to the Pro Version
Your benefits
Register program
FAQ
Tech specs
Program details
Version: 1.5
Language: English, German
License: Freeware
Optional upgrade to the Pro Version
System requirements
OS:
Windows® XP, 2003, Vista, 2008, 7, 8, 2012, 10
System: 32-bit, 64-bit
RAM: min 256 MB
Processor: at least 400 MHz